The Unbroken Spectrum: Self-Hatred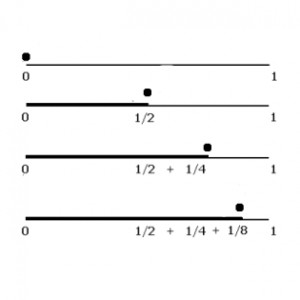 A couple weeks ago I sat down to sketch out two mechanisms which serve to obscure the reality that there is no clear dividing line between autistic people and the larger population.  What was to be a single entry grew to two, and then a pair of commenters to the second installment insisted that there was another group I had overlooked.  Once I considered this, it became clear that beyond this third instance, there may well be more parsing to be done, with each distinct group having its own way of moving their own autism out of the way of our attention.  It reminds me of that old paradox in which before you can get to your goal, you have to arrive at the half-way point to your goal, and then again, and again, on and on so that you can never actually arrive.
Which as it happens is not a bad metaphor for this pale end of the autistic spectrum that "shades out to normal."  In my previous entry at any rate, we looked at psychological projection among those with an autistic cognitive style.  The gist of it was that for those who are uncomfortable with and in denial about their own autistic traits, autism seems to loom large in the world around them, and can appear for all the world to be an urgent external threat.  Whether as leaders or as followers, such people can all-too-ironically become invested in "stamping out" in the world that which is native to their own character.
Two commenters wanted it known that that denial and projection seem to be absent in a certain group of autistic people who can be just as bent on "defeating" autism.  Lili Marlene put it this way:
I'm not convinced that we need to look to an unconscious process – projection – to explain why some substantially autistic people hate the autistic characteristics of others. For a start, I'm happy to acknowledge that some aspects of autism are hard to like. I would also argue that for some self-hating part-autists they are so clearly opposed to aspects of their own psychology that they are better described as self-haters who love to share the hate around than projectors. My theory is that these people have seen autistic family members at odds with society and losing the battle, and have decided to take what they see as the easy path – siding with neurotypical society and adopting the value system of their neurotypical age peers, adding a few explicitly anti-autistic features just to make it clear what side they are on. It's an attempt to be normal that paradoxically appears to lead to mental illness and alienation from family. Life is a constant battle for those who refuse to consider acceptance as an alternative. You make your choices and you live with the consequences.
It's hard to find much to add to that.  This from one of César Vallejo's poems comes to mind as the kind of thought which might torment such people:
Well, on the day I was born, God was sick.
A quick Googling of that line turns up the fact that Robert Bly regards it as the voice of a naïve male who is still projecting his own shadow – but onto a God who's turned in a subpar day of work, rather than onto others in this world.  What we do in any case when we encounter such a person, generally, is turn away. Their clear message is, "I was not meant to be this way; I am God's own mistake," and the politest, most comfortable thing to do then is to put their self-described "defect" as well as those of others out of mind, to ignore it as best we can.
Even in cases which seem to contradict this message, in for instance the case of a Jonathan Mitchell, who steadfastly puts himself in the public eye as a self-pitied autistic person, the actual takeaway for observers is that they learn to look away from Jonathan's oh-so-horrible burden.  It's not polite, after all, to stare.  In this way people are taught that autism is "not supposed to be," and people, being generally polite, well-meaning sorts, learn to oblige by not seeing autism whenever they encounter it in a social situation.
This is so even when and where autism is celebrated with pride, and there are of course people – whether or not they are aware that autism is a word which applies to their way of being in the world – who do celebrate their autism with pride, or who simply take it in stride.  This too however can change, depending on the situation and context, on what stage of life they are in, and on what it is that's at stake, be it sex, love, employment, or getting to be one of the kewl kidz.  Yes, even for autistics this can sometimes matter.
The larger point then is that all three of these groups I've outlined so far – subjects of ridicule, projectors, and self-haters – all overlap and blur into one another.  So long as one isn't locked into projection for the long term, it's possible to slide across all three roles and more in the space of a single day, not to mention a lifetime.  All of which provides a sort of theater which tends to obscure the fact that there's a lot more autism about, and closer by, than we realize.  That final idealized goal in fact, of "absolutely normal person," may well be one at which no one can ever actually arrive….


related:  The Unbroken Spectrum: Ridicule
related:  The Unbroken Spectrum: Projection
related:  The Unbroken Spectrum: Stockholm Syndrome
related:  The Unbroken Spectrum: The Shared Closet
Mark Stairwalt on 06/4/10 in featured, Society | 8 Comments | Read More