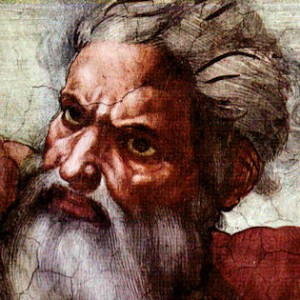 Theory of mind, which is a social reasoning process that involves drawing conclusions about the thoughts underlying others' acts, includes the tendency of many people to attribute intent and purpose to the events that occur around them.  They may believe that destiny caused them to meet their spouse and that they were always meant to be together, or that an earthquake was God's punishment for a sinful society.  Attributing events to destiny or to a higher power is known as teleological thinking.  One of Lili Marlene's blog entries describes this type of reasoning as the dark side of theory of mind.
The history of teleological thinking in the United States goes all the way back to the first Puritan settlers, who had supernatural explanations for just about everything in their lives.  If they were prosperous, it was a sign of heavenly favor; and if the crops withered or the cows got sick, a witch's curse was probably to blame.  Although there have been many changes in our society since the Salem witch trials took place, the sort of reasoning that brought them about is still very much with us, more than three centuries later.
Non-teleological thinking is a relatively new development in Western society and is often associated with the Enlightenment, as well as with the concepts of evolutionary biology that have to some extent displaced creationist ideas.  As discussed in a New Scientist article, even college-educated adults who have a reasonable understanding of evolution and who are not creationists often have a tendency to view natural processes as based on some underlying purpose.  (The study referenced in that article can be found here.)
The shift toward non-teleological thinking in modern times may reflect that a more autistic worldview is starting to take hold.  Recent research suggests that the autistic mind is less susceptible to teleological explanations.  When asked to speculate about the reasons why important events happened in their lives, autistic participants in a study conducted at Queens University Belfast were significantly less likely than non-autistics to give a teleological response.  Instead, as reported by Scientific American, the autistic participants often attributed the events to natural causes or simply described them in more detail.
Because there is such a fundamental contrast between the perspectives of teleological and non-teleological thinkers, it is not surprising that there has been so much conflict between the two groups over the years.  From the condemnation of heretics by the medieval church to, perhaps, the modern-day social construction of autism as a disorder of impaired cognition, those who felt confident of knowing the mind of God often have believed it necessary to discredit the legitimacy of other ways of thinking.  Indeed, consistent with the teleological mindset, the very existence of deviant reasoning often has been attributed to some malign external force.  Heresy could only be the work of the devil, the theory of evolution was a sinister atheist plot to corrupt young minds, and autism had to be the result of a government conspiracy to poison babies with toxic vaccines.
With such vast differences between our ways of viewing the world and its events, how can we get to the point of peaceful coexistence?  Perhaps, as with other conflicts and prejudices throughout history, we may come to find that it is chiefly a matter of becoming familiar enough with our differences to overcome the fear and mistrust.
Gwen McKay on 06/9/10 in Autism, featured | 7 Comments | Read More