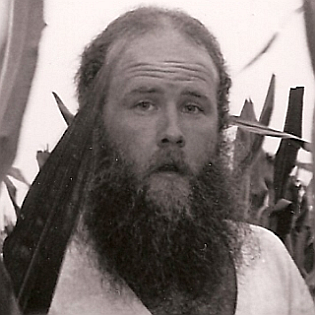 For all that I'm still learning something new every week about what's been happening with autism in society over the last decade or so, that fact itself provides me with a perspective that is likely unique from that of just about anyone else writing on the subject.  Until a few months ago when I went out looking again, my picture of this world I'm writing about now was frozen in time, hardly updated at all since about 1999.  The more I've recalled the story of Rip Van Winkle, the more I've come to see correspondences—though fortunately a few of the story elements have been flipped around—between his experience and mine.
You may remember Van Winkle as the farmer of Dutch descent, rich in friends and poor in ambition, who wandered off to go squirrel hunting in the Catskills, fell under the enchantment of some ancestral spirits playing at nine-pins in a hidden valley, and passed out drunk for the night.  Waking twenty years later, he found his beard grown out, his children grown up, and his wife in the ground, with only the village elders believing his story.
Maybe the first and most significant point of comparison between us is that Rip drank deeply of what was on offer to him, and I did not—and yet both choices resulted in our disappearing for years numbered in multiples of ten.  It was (now a little more than) ten years ago that my wife and I decided we'd learned all that was going to be helpful for raising her older daughter, then 8, who had been determined—by us first and later by a doctor's diagnosis—to have Asperger's syndrome.  Not that there wasn't more we might have learned; the emphasis here is on what was going to be helpful.
My wife-to-be was at the time finishing a graduate degree in information sciences and working as a reference librarian, so access to information online and off was never so much a challenge as was finding information that was relevant to our situation and our values.  The closer one looks at those two words, situation and values, the harder it becomes, actually, to separate their meaning.  Not only was our Asperger's kid already mainstreamed with few issues (in a school system that was at best "okay" with accommodations), but learning how to recognize autistic traits had for us led to a wholesale epiphany in the way we viewed our longtime social circle.
At first, this epiphany was disorienting.  How could it be that so many of the people we'd hung out with for years seemed to be, if not undiagnosed autistics, then certainly nearby on the spectrum?  We realized soon enough that this was due to a selection bias, a birds-of-a-feather effect; we had self-selected a social circle shot through with spectrum folks.  Still though, never mind our kid—or the autism we were seeing at work in the larger world long before books began to appear on the subject—here were our pretty much functional, gainfully employed, beautifully quirky friends whose behavior, mine included, implicated us in what my wife and I were reading was some kind of awful, dark mystery, full of challenges for which we would all need support.
In terms of our situation and our values there was a huge disconnect between us and the information and support offered to us, and so disconnect we did.
Not that there weren't encouraging signs though, even back then.  We were aware, for instance, that the term neurodiversity had been coined, but this seemed a distant and isolated fact.  Muskie's Institute for the Study of the Neurotypical was a lighthouse of bright and merry snark in the fog.  The Neanderthal hypothesis, while not so compelling today, was just being floated.  Uta Frith and Temple Grandin seemed to be lost in the din, but for us, Dave Spicer was doing a lot to humanize autism, with his ready compassion and his gift for analogies.  Honestly though, while we just about wore out the Altavista search engine and the local Borders bookstore, that's about all we found of real value.  My wife did join a listserve for parents of autistic kids, and learned much, but while it seemed more congenial to our values, its members were faced with more immediate challenges than we were, and again then, our situation did not match.
So, rather than slipping away with my squirrel gun to hunt the elusive "cure for autism," I simply dropped out of any involvement with autism as a topic of public conversation, and together we kept about the business of raising our girls.  I continued the reveries and ruminations that led to much of what I write here, but kept them mostly to myself.  We made one last attempt in 2000, when my wife and I separately wrote to author Jon Katz, whose just-released book Geeks: How Two Lost Boys Rode the Internet out of Idaho we had read with excitement, thinking here was a writer capable of bringing attention to the under-the-radar autism we had found to be hidden in plain sight.  From his responses, we gathered two things: he had been inundated with inquiries encouraging him to do just that; and, he felt the task too complicated for him.  Katz's next book began a series about his relationships with dogs, marking my full descent into a disgusted, disgruntled, and restless slumber which nonetheless lasted until earlier this year.
Looking at the landscape as I've found it on waking up again, groups like the Autism Hub bloggers and the Autistic Self Advocacy Network have changed it immeasurably, and individual figures such as William Stillman seem to be coming into their own.  Still, there is much awareness yet to be raised about the extent to which autism is woven into both our present and our past, and the attendant fact that autistic people, given the opportunity, have always been fully capable of speaking for ourselves and acting as an independent, autonomous force in the world.
Of the many further resonances in Washington Irving's story that I'm tempted to close with, I'll settle on the common thread of enchantment by ancestral spirits.
Last summer, on a whim, looking to see if I had any company in thinking about autism on a time scale that I had pegged to stretch back roughly 40,000 years, I typed the words evolution and autism into Google. Within minutes I was confronted with the fact that I had not, for all these years, been such a Big Thinker as I'd thought.  Someone else had been thinking about autism on a time scale of millions of years, and far more thoroughly, rigorously, and productively than I had imagined possible.  Andrew Lehman's work appears both here and at Neoteny, Autism, and Evolution, and you needn't read far to see how he's under the spell of ancestral spirits older even than those of the cave painters to whom I'd long looked as autism's forebearers.
Whether those spirits are looking back at us with the same "fixed statue-like gaze, and such strange, uncouth, lack-lustre countenances" as caused old Rip's knees to knock together is something none of us can say for sure.  Maybe more important though, is how we are looking at them.
Mark Stairwalt on 11/27/09 in Autism, featured | 2 Comments | Read More