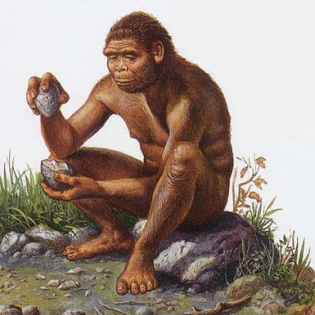 The other day, on "Cat in a Dog's World", Sarah takes to task the originator of "The Neanderthal Theory", Leif Ekblad.  His theory is the result of his desire to justify his ideas of Aspie Supremacy, and not based on any sort of fact.  I commented there, and made reference to a PBS show I had seen recently.  Please watch it, if you are at all interested in the subject of evolution, because it encompasses all that we know on the subject, and that's quite a lot.  There are also links to Parts 1 and 2.
It's really very informative, it tells about how half a million years ago, a creature called Homo Erectus began to leave Africa, slowly spreading across Asia as far as Indonesia, and also going up into Europe, becoming Homo Heidelbergensis.  This breed developed into Neanderthal man, while those who remained in Africa evolved into Homo Sapiens.  About 60 thousand years ago, some of these too began to leave Africa, and for quite a while, they co-habitated Europe along with Neanderthal man.  They had many advantages, and began to push Neanderthal into marginal areas.  The last evidence of Neanderthals was on the island of Gibraltar, and that only 28 thousand years ago.  They had existed for about 400 thousand years.
Our scientists have the Neanderthal genome all mapped out, and are certain that there was no cross-breeding between the two.  And now I'm going to do a little reckless speculation.  Wouldn't it be interesting if they could reconstruct the Neanderthal DNA, put it in a human egg, and create a test tube Neanderthal baby?  (I'm not saying it would be ethical, but it sure would be interesting.)  We could find out all that we want to know about them.  At some point, it may be possible to do.
And if it were possible to create such test tube babies, there's another experiment that simply must take place.  I'd like to see the same experiment done with DNA taken from the skeleton of a 20 thousand year old Homo Sapiens.  What would that show?  Well, Homo Sapiens has been around for 200 thousand years, and for the first 190 thousand showed very little progress.  It was only in the last 10 thousand years that we developed any kind of civilization, and the bulk of that only in the last 3 or 4 thousand years.
What changed 10 thousand years ago?  The North American glaciers melted, releasing cold fresh waters into the Atlantic, changing the climate in Europe and the Near East, making agriculture possible.  The first remnants of civilization are in Jericho, where they say cultivation of wheat began.  Was it the change in diet, or the cultural change from hunter/gatherer to agriculture that made the difference?  The change in diet wouldn't have been complete, I'm sure they still ate meat, as they couldn't subsist on only wheat, but they ceased to be nomadic.  Still, I wonder, if they made a test tube baby from a 20 thousand year old skeleton, would they find any significant difference?
No, I'm not selling any theories, like "intelligent design" or even "divine intervention", I'm just looking for a rational explanation of why Homo Sapiens went 190 thousand years without making much progress, and then suddenly progressed in leaps and bounds.  At what point in our evolution did we cease to be mere animals, and become "human"?  Was homo erectus human, or Neanderthal, or that early homo sapiens?  I don't know, that's why I'd like to see the results of that experiment.  Or maybe Nova will address it in a Part 4.
Comments are welcome, as always.
Becoming Human first appeared at Comet's Corner, and is reprinted here by permission of the author.
Clay on 01/27/10 in Evolution, featured | 7 Comments | Read More