On Styles of Consciousness, Autism Included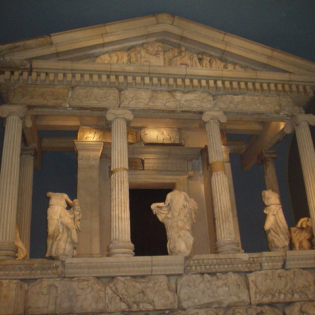 "Whatever else it may be, autism is a way of being in the world.  It is a style, a manner of behaving and perceiving, and of being perceived."
Classical Greece had a whole lexicon of different "ways of being in the world."  Human styles of consciousness in all their diversity were recognized and honored with festivals and in architecture.  We know these styles of consciousness today by names such as Apollo, Persephone, Dionysus, and Aphrodite.
When our enthusiasm for instance is to shed light on a subject, to dig it out and lay it flat, pick it apart, expose its inner workings, and see it in the full light of day, we are experiencing an Apollonian style of consciousness—one to which autism does not yield easily, not to date, and conceivably not at all.  But the Greek root enthusiasmos does after all mean "to be possessed by the god."  Apollo today, Dionysus this weekend; we all are tossed back and forth, our enthusiasms making the rounds between and amongst gods and goddesses—or styles of consciousness—both named and unnamed.  This is, as the Greeks saw it, what it is to be human.
That autism also would be a god—an archetypal style of consciousness—seems strange enough at first blush. Who would have suspected?  Well, there was that old Unitarian dropout Emerson, who observed, "… no one suspects the days to be gods."  Substituting "autism" for "days," we might get "No one suspects autism to be of the gods."  And who would argue with that?  How about Carl Jung, who not only suspected but explicitly claimed, "The gods have become diseases.  Zeus no longer rules Olympus, but rather the solar plexus and produces curious specimens for the doctor's consulting-room."
So it is that we are still in search of the literal "curious specimen," the neurological anomaly that will open the door to an autism with its component parts laid out plain to see on the glowing flatscreen monitors of radiologists the world over.  There are though other, less Apollonian ways to understand, to stand under these things, other more humble ways to gain access and insight.
Key to that humility is one's position in the first place on the subject of many gods versus one true God—or, one true style of consciousness.  To be clear, I am not speaking literally here. I have known practicing monotheists (those whose god is the God of Abraham, Isaac, and Jacob) whose style of consciousness was as polytheistic as the day is long; also, several assorted banes of my existence have been professing pagans or atheists who were in fact unyielding monotheists at heart.
But yes, when you are able to comfortably entertain multiple, competing and contradictory notions of truth or reality, when you can face ambiguity without needing to do anything about it, your overall style of consciousness might be said to be polytheistic.  When you behave as if there are not all that many right, healthy, or justifiable ways to be human, when you see differences as deviations from an ideal rather than variations on multiple ideals, when you discount gray tones for black and white, when you focus on the literal rather than the metaphorical, your overall style of consciousness might be said to be monotheistic—yea, though you are still tossed around and toyed with by various lesser gods, just like the rest of us.  Eros for instance makes fools of us all at times; never mind whether you "believe" in him, portraying him as a ridiculous cherub on Hallmark cards doesn't begin to make up for the kinds of suffering he can bring.
At any rate, I'm sure you can intuit where my preferences and prejudices lie; I'm sure you can also see how these competing styles line up with the split in thinking over whether autism is an unambiguous pathology to be wiped from the face of the earth like smallpox or malaria, or an ambiguous logos we would do well to—and by—to listen to before we assume we know what it's asking of us.  What Jung was getting at after all was that styles of consciousness, when ignored or blocked from consciousness, will get our attention via whatever avenues are left open to them, human suffering be damned—particularly when human suffering happens to be the only open path.
In this way they are very like gods, whether jealous, vengeful ones like the Old Testament's Yahweh or yet older ones like the similarly petty, prideful inhabitants of Mount Olympus. And very like gods they make claims upon us which we must attend to, or there is hell to pay.
How then, do we go about hearing what autism wants of us, perhaps especially as it presents in non-verbal autistics?
My colleague Andrew Lehman, founding editor and regular contributor here at Shift, proposes Gregory Bateson's understanding of Freud's concept of primary process as a root description of the style of consciousness that is autism.  To be sure, depending on which section of the autistic "spectrum" one happens to be transiting at any given time and place, one can expect to experience a greater or lesser degree of primary process.
As a bumper sticker, Bateson's take on primary process would read, "One Time, One Place, No Opposites." There are connections there to dream consciousness, to animal consciousness, and to the human collective unconscious, all of which can be difficult to relate back to the everyday experience we think of as autism.  And without corroboration, it's all too easy to presume that non-verbal autistics are mute simply because busy basking in primary process—though who knows, it may not be far from the truth.
I don't know that either of us is proposing anything quite so direct, though.  There've been a few posts of mine where I've danced around this subject, but I've yet to find the opening I'm looking for.  And I'll confess that even today, I've not caught up to Andrew's grasp of the connections here.  What I've liked about it from the beginning though is that considering primary process as a taproot of autism invokes a respect for mystery—without, I think, descending into woo—and thus provides a framework for respecting the autistic experience, human suffering included, that is sorely missing from every other approach to autism with which I'm familiar.
For all that though, it's still not entirely clear to me how we go about propitiating the "curious specimen" that is autism.  Before we try festivals and architecture, one thing I do believe needs to happen is that we learn to recognize it as a style of consciousness.  This, both in the sense of recognizing that it is a style, meaningfully self-consistent across the millions of people who "have" it; and also that we learn to recognize it when and wherever we see it, not just when it produces itself "for the doctor's consulting-room."
First things first.  One step at a time.  There are rituals after all, surprisingly similar, for establishing communication whether with animals, people, gods, or whatever.  You begin by respectfully recognizing the Other's presence.
Mark Stairwalt on 04/2/10 in featured, The Unconscious | 11 Comments | Read More