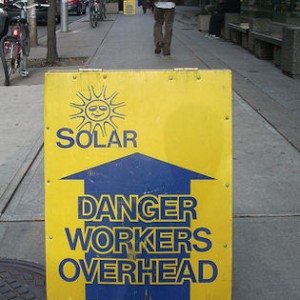 As the free sharing of information and creative endeavors on the Internet moves the economy away from a focus on consumerism, we can expect that the careers of the future will differ in many ways from today's jobs.  What might a successful career look like?  I was discussing this question recently with Mark Stairwalt, who pointed me in the direction of a blog article by Cal Newport about loving what you do.  Unlike many such articles, it is not an inspirational fluff piece about following one's passions to choose a career, but instead gives the more practical advice that career satisfaction is best achieved by developing a skill in much demand.  This in turn enables a person to gain more autonomy, competence, and relatedness—which have been identified by psychological researchers as key factors in career satisfaction—both in the workplace and in other areas of life.  People naturally develop a love for their work, according to this view, as they gain a sense of autonomy and competence and meaningful connection to others.
To illustrate how much flexibility a person with highly marketable skills might enjoy in balancing work and other life activities, the article gives the example of independent consultant Laura, a computer engineer:
Laura is a database whiz.  Companies hire her to wrangle their most gnarly data into streamlined structures.  If you're lucky enough to engage Laura, she'll assemble a handpicked team of programmers and descend on your office for up to six months.  She'll then take your generous check back to her charming Jamaica Plain bungalow and set about finding novel ways to spend it.
She allows months to pass between projects — the paydays being ample enough to buy her as much downtime as she wants.  She has used this time, among other pursuits, to earn a pilot's license, learn to scuba dive, and travel through Asia.
Although having that much free time may seem far out of reach to most of today's cubicle dwellers, I expect that more of us will have such opportunities as the workforce continues to evolve toward specialized technical niches, with automation taking over much of the routine stuff.  The increase in productivity resulting from a better educated workforce and more efficient use of automation will mean a wealthier economy; and as workers develop extremely specialized skills, it will be much harder for companies to find people with the skills needed for a particular job, thus forcing wages significantly higher.  Even workers with less education will eventually start to earn better wages as today's developing countries become fully industrialized, thus depriving the corporations of their usual supply of starving peasants to exploit.
In a post-consumer economy, what career fields might be expected to grow?  I mentioned one likely prospect in my previous post—green technology and other careers related to environmental protection and improvement.  Another area often discussed by Andrew Lehman is child care and education, at present woefully inadequate to meet the needs of many of our children.  As educators and child care professionals develop more expertise in identifying the practices that are best suited to teaching a neurologically diverse population, they will command higher salaries while also preparing our young people for successful lives.
In light of our aging population and the rapid pace of advances in medical science, we can also expect substantial growth in the fields of health care and nutrition, which I predict will become much more interrelated in the future.  When individual genome analysis becomes a routine matter, everyone from the youngest children to the oldest seniors may regularly receive prescriptions for both medications and foods compounded specifically for their genetic needs.  These will be obtained easily through one-stop shopping at the local supermarket, which, like most businesses, will have convenient delivery services available for the increasing number of people unable to drive because of age or disability.  Today's mass-market pharmaceuticals and fast-food chains will disappear entirely, to be remembered as relics of a primitive past.
Gwen McKay on 05/19/10 in featured, Internet | 1 Comment | Read More