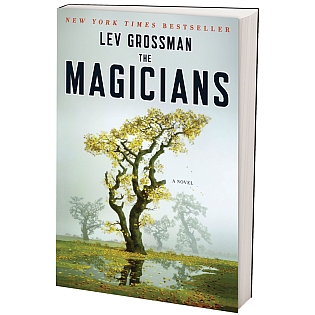 As I've mentioned, I'm currently reading Lev Grossman's latest book, The Magicians.  I'm bringing it up again because in the last couple of chapters, I've twice come upon adverbs that made me stop reading and start thinking.
Here they are in context:
"Penny could be defensive when he was under attack, but he was so autistically focused right now that even direct mockery bounced off him." (249)

"Penny was nodding and rocking his whole body forward and backward semi-autistically." (260)
It should be noted that the character Penny is not, in fact, autistic - or, at least, is not identified as such.
I keep re-reading these sentences, because I'm not sure what I think of them - I'm not sure how I feel about "autistically" being used as an adverb to describe something other than autism.  I don't think these adverbs are being used in a way that denigrates the character Penny - Grossman is not using "autistically" to mean "inappropriate" or "inadequate."  In the first sentence, he is simply characterizing the kind of focus one often sees in a person with autism.  In the second, he is characterizing a kind of movement.  (Though "semi" autistically? I'm not even sure what that means.)
Part of me feels like this is okay - perhaps even good - as it simply conveys the message that acting "autistically" is just one of many ways of acting - not inherently good or inherently bad.  Just one of many options.
Another part of me is unsettled by the use of the word in this way, and I'm not even sure why.
I am reminded, though, of Grossman's earlier book, Codex, in which there was a supporting character who was autistic.  He was smart and technologically savvy, and I spent the book waiting for his autism to emerge as a critical plot point.  It never did.  He just happened to be a character who happened to be autistic.
The character in Codex and the incidental nature of his autism was reassuring to me.  But the "autisticallys" in The Magicians are throwing me.
I'm curious to hear what the rest of you think about them.


Comments thread on original post here.
MOM-NOS's Autism as Adverb was originally published at MOM - Not Otherwise Specified, and appears here under the terms of this Creative Commons License.
related:  Should We Label Characters?
related:  "Autism" the Word, as Glimpsed in the Wild
Guest on 09/23/10 in featured, Language | 5 Comments | Read More