The Intersection of Autism and Politics (not where you think it is)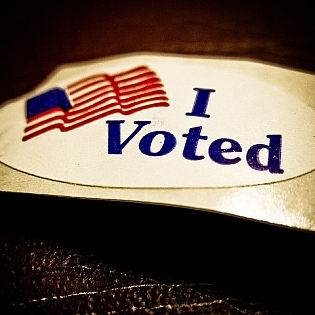 "If we were a voting block, we could run the country."
That's the phrase I kept coming back to eleven or twelve years ago now, when the full extent of autism's unbroken spectrum first came into view for me.  It's a conveniently vague way to refer to the actual number of those in the population who might occupy some or another place on the broader autistic spectrum.  The only requirement after all for being kingmaker in an election is to hold a single deciding vote; at the same time, the line where a small number of "swing voters" swells into being a minority that must be reckoned with is as variable and unclear as is the line between autistics and non-autistics.  What I want to get at here though is something both more subtle and more sweeping than merely suggesting that autistics comprise somewhere between one and forty-nine percent of the population.
I've written recently that the Politics category at Shift is here for a reason, and that it bears watching at least in the long term.  The larger background against which I'm learning to view autism seems to suggest that electoral politics is not so removed from the personal or social politics that are frequently discussed here.  In fact there are a number of pieces posted under Society which may well better belong under Politics.  All of which of course still begs the question of where the intersection is between autism and electoral politics.
For starters, I can suggest that if mankind is undergoing a long-term shift in its dominant social structure and defining phenotype of the sort described on this site and elsewhere by Andrew Lehman, then we should only expect the tension between the rising and receding phenotypes to express itself in electoral politics, much as we can expect it to do so in personal, office, or playground politics.  The time scale here however is one that spans generations, and just as one cannot point to a particular weather event and claim that it was "caused by" a shifting climate, it's difficult to point to particular political differences and claim they are anything more than "consistent with" a model of paradigm shift from one dominant phenotype to another.
Bullying for instance, especially of gays and autistics is presently receiving renewed scrutiny, but without comprehensive, long-term statistics on the amounts, types, and targets of bullying reported and unreported, publicized and unpublicized, it's hard to say what's actually happening.  As an example though of where the rubber meets the road between a resurgent matriarchal social structure and a patriarchal one which is past its peak, we might do worse than to consider bullying.
The prediction I'd offer is that one would find very little bullying in a stable patriarchal society that is not undergoing a shift away from domination by high-testosterone males.  Everyone from childhood onward would simply know and accept their place, with little call for vigilante enforcement on the part of insecure youngsters and anxious, power-hoarding adults.  Individuals who bully may well be acting out a collective anxiety that comes of the sense that the world for which they are best suited is slipping away from the lineages that produced them, and to which their own offspring likely do or will belong.
In reviewing entries for last week's A Year Ago at Shift Journal, I ran across one of Andrew Lehman's which seemed to pivot around a single sentence that speaks directly to electoral politics of the past forty years or so; it's set off in my added italics in the middle of the second paragraph below.
Perhaps no single feature of a human being so informs both our evolution and our children's lives more than the testosterone and estrogen levels of the mother while the child is in the womb.  Baron-Cohen understands the influence of testosterone but hasn't assimilated the repercussions.  This feature is one of the major physiological intersections informing the directions we evolve.  High testosterone mothers birth low testosterone males and high testosterone females.  Low testosterone females create high testosterone males and low testosterone females.  Mother's blood suggests and prescribes social structure, evolutionary trajectories and individual human skill/challenge constellations, simultaneously.

Very few myths are shared by aboriginal tribes on six continents.  One central belief is that a woman's blood possesses more power, more potency than all other magic.  No single issue motivates social conservatives more than the compulsion to control a woman's womb. In the roadmap of human experience, this issue is where the mythic and manifestly real intersect.
No one of course makes better practical use of this issue—however unconscious that use may be—than those who represent social conservatives in government.  During eight years of complete and near-complete control of all three branches over the past decade, conservative leaders made no serious effort to repeal Roe v. Wade, thus preserving what may in fact be the single most effective perennial issue available to them for motivating their base.  Even with that said, the point stands in regard to social conservative voters, a group I would suggest is made up largely of high-testosterone males, low-testosterone females, others who for various reasons find comfort and accommodation in that hormonal conjunctio … and relatively few autistics.
In other words, for all we like to believe that William Ross Wallace got it right when he suggested that "the hand that rocks the cradle rules the world," the actual power in the long term may lie not so much in the hand as in the womb and in the choice of who will and will not become a father.  This is not to question the stated motives of conservatives for opposing abortion, but rather to suggest that genetic self-interest may run at such a deep level here that it operates unconsciously, appearing for all the world to be a matter of universal, self-evident truth.
Consider that one notable anti-abortion position is that women must bear the children of rapists.  Consider further what you think the likelihood is that an "aggressive, hierarchical, right-handed" male will—whether by means of rape or marriage—sire a "random-handed, cooperative, neotenous" son.  Multiply that choice of who will and will not become a father billions of times over, and you are looking at the potent magic of a body politic in which autistics have a place and can thrive … or one where, eh, not so much.
I wound up writing about this for today because I had made a promise that the Politics category was a space to watch, and because I ran across that sentence which served neatly to draw a cross between autism and politics, not to mention between "the mythic and manifestly real."  I don't know that it's the best introduction that might be made, but I remain convinced there's a lot of unexplored territory here.  If you're hungry for more—in quantity, scope and nuance—I suggest diving into Andrew Lehman's work, again, here at Shift as well as at Neoteny and in his book, Autism, Evolution, and Social Change.
One caveat I'd like to make is that for all of what might be taken for happy-talk about some Shining New Day for an autism-friendly matriarchal social structure, I think it's a real possibility that what many of us alive today may be in for—or for that matter our children's children, or theirs in turn—is ugliness and suffering on a scale that could well surpass that of World War II Europe.  Patriarchy that's been around for a dozen or so millennia doesn't necessarily go down without a fight, and from where I sit, it appears the bullies who've risen to power just now, at least here in the United States, are riding herd on a lot of collective anxiety.
This sort of change, as I said, is a multi-generational affair, and that "multi-" may well refer to dozens or hundreds of generations.  I'm personally not so much in the business of promoting hope as I am of trying to see and present a Big Picture.  In that picture, I'm a short-term pessimist, and a long-term optimist.
Who knows though.  The actual future is likely to be more of a hodge-podge, and maybe things are better than they look to me.  Stay tuned.
Mark Stairwalt on 10/22/10 in featured, Politics | 6 Comments | Read More