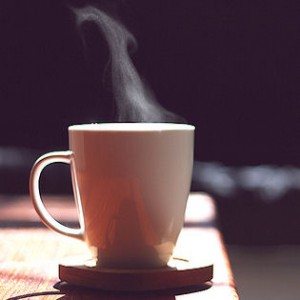 My original plan for this post was to spend Monday evening reflecting on how today's social and physical environment can be stressful for our kids and writing a thoughtful article on that subject.  However, as we all know, life often doesn't turn out the way we plan it.  An unexpectedly potent cup of vanilla-flavored espresso from a convenience store derailed my expectations.  My husband and I both made the mistake of drinking the stuff on the way home from taking our daughter back to college Sunday evening after she spent the weekend with us.  Although we noticed that the coffee seemed bitter, we went ahead and drank it anyway because we thought it wasn't all that bad.
That, as Daughter would say in the words of her generation, was an epic fail.  By the time we got home, it was apparent that we'd had a major overdose of caffeine.  Husband spent the night on the couch watching whatever TV sports were on.  Although I got in bed, any hope of being able to sleep was futile.  All kinds of disjointed thoughts paraded through my head, including snippets of the blog post I'd been planning to write; but by then I didn't have enough physical energy to get out of bed and actually do any writing.  I probably slept for about an hour before it was time to stumble through my workday.  Needless to say, that blog post never got written.
Looking at this unfortunate incident from the perspective of turning bitter food items into lemonade, however, it's a useful example of how things we encounter in our environment can cause problems for us.  When behavior analysts take detailed notes on how a child acts in certain situations, they're trying to identify the antecedent environmental causes of whatever behaviors they want to modify.  That approach may sometimes work when there's an obvious cause-and-effect relationship, such as my consumption of bad coffee causing the undesirable behavior of failing to produce a timely blog post (for those who may be wondering, I didn't start writing this entry till late Tuesday night for a Wednesday posting).
In most situations, though, the interaction between human beings and our environment is much more complex and can't be effectively reduced to simple behavioral equations.  We go through our days reacting not only to things that can be readily observed and measured, but also to a host of subtler influences below the threshold of conscious perception.  We often have emotional feelings about particular places without understanding why.  Maybe they trigger fleeting impressions of long-ago events that have faded from our thoughts, or they bring to mind ancestral memories or cultural symbols that operate at a level even farther below our conscious awareness.
Feng shui, an ancient Chinese practice of adjusting a person's environment to promote mental and physical well-being, has a strong focus on the symbolic aspects of perception.  Although many people dismiss it as superstition because it is traditionally worded in terms of bringing good fortune, many of the underlying observations are quite sound.  For example, having a house that faces north is considered unlucky.  This may not seem to make any sense at first glance; but in the Northern Hemisphere, where most people live, north is the direction of the least sunlight and the coldest and most severe weather.  A feng shui practitioner would say that a person who walks out the front door every morning to face a shadowed porch and a chilly wind is likely, on a subconscious level, to perceive the world as a darker and less welcoming place than if the door opened onto a sunny and pleasant southern view.
Perhaps, instead of trying to manage our children's behavior by analyzing their observable reactions to specific events, we might do better to take a more holistic view of the surrounding environment.  Such an approach would focus on reducing exposure to anxiety-provoking situations and generally providing opportunities for a positive view to flourish.
How might that be done?  Well, now I've gotten back around to my originally planned blog topic.  Stay tuned till next week.
Gwen McKay on 10/27/10 in featured, The Unconscious | 6 Comments | Read More