From the Pro-Neurodiversity Trenches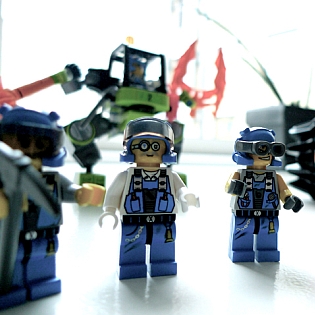 Early intervention and treatment is important!  If caught early enough, negative attitudes toward autism and other disabilities can be minimized and even reversed!
Read more below to see what happens in our disability-rights oriented home.  These comments were taken down by the mom of an almost eight year-old:
"Mommy, the (LEGO) Power Miners hire people with disabilities.  In fact, they are all autistic!"  [A bit later, after a lot of "truck noise"-]  "Mommy, look at this; this is the Power Miner with the disability.  Can you tell what disability he has?"  [I look; he has one hand].  Me:  "He has one hand.  Is that his disability?"  "Yes, but he only has to operate this lever with one hand … and boy, he can throw that dynamite!  And this one is autistic.  But he can really drive that truck.  And this one is autistic too."  [More truck and heavy equipment mouth noises.]  "I know what I'll put on the sign:  'Disability rights for Power Miners … um … Power Miners with disabilities are allowed."
Think about it.  Neurodiversity:  Acceptance for neurological differences and disabilities.  Autism acceptance.
Fast forward to the future (when they have become adults):  this is the "kid" you want working in HR when your child applies for a job.  This is the kid you want to be a neighbor living next door to your kid.  And, right now:  this is the kid you want in your child's class at school (but right now he is being homeschooled—sorry!) This is the kid that I wish could be transported around the country to have playdates when I read about a child who is lonely and does not have anyone to play with and I feel sad and want to do something for that kid and know that my kid might be at least part of an answer.
Parents, teach your children well, I'd say, but I have not "taught" him this lesson.  He gets it instinctively from the openness we have about disabilities including but not limited to autism, and from our openly autistic friends, and from meeting and interacting with, and playing with or near, children on the spectrum.

"Introducing …… Drill Destroyer!  Here's the guy with the disability … This one is autistic!"
P.S. My child is not the "perfect playdate."  He's a kid.  He will complain or tattle or say "No fair" as the situation demands, from his POV!


Paula C. Durbin-Westby blogs at the eponymous Autistic Advocacy Blog.  From the Pro-Neurodiversity Trenches appears here with her permission.
Guest on 10/28/10 in Art/Play/Myth, featured | 7 Comments | Read More