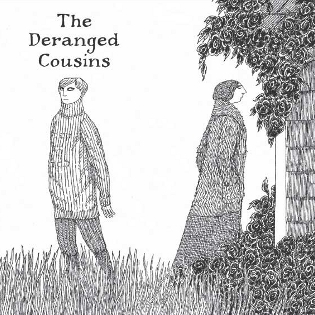 Who are they? Where did they come from? Where did they go? Was there something not quite right about that level of involvement of siblings with each other's lives? Did they find whatever it was that they were looking for? Do they drink? Where do they worship? Some mysteries are perhaps better left unsolved.
The Deranged Cousins, by Edward Gorey. Music by Erik Satie, Piéces Froides.


Psycho Killer, performed by The Kransky Sisters, written by David Byrne, Chris Frantz and Tina Weymouth of the Talking Heads.


About Edward Gorey
He "found almost everything about human nature absurd. Politics, sports, trends and fads. International news. He was a born isolato…"
– Alexander Theroux, a friend of Gorey's
Baxter, John (2010) Primal scenes: Tim Burton: the exhibition. Monthly. July 2010 p.52-55.
http://www.themonthly.com.au/arts-letters-john-baxter-primal-scenes-tim-burton-exhibition-2562
[includes a quote from Alexander Theroux about Edward Gorey]
Gorey, Edward (2001) Ascending peculiarity : Edward Gorey on Edward Gorey : interviews.(selected and edited by Karen Wilkin). Harcourt, 2001.
http://trove.nla.gov.au/work/28488993
The Edward Gorey documentary
http://www.edwardgorey.net/
Theroux, Alexander (2000) The strange case of Edward Gorey. Fantagraphics Press, 2000.
http://www.amazon.com/Strange-Case-Edward-Gorey/dp/1560973854
[a book about Gorey written by a friend]
About Erik Satie
"Whatever was orthodox, Satie hated … his chamber pieces were designed to make the chamber uncomfortable."
-Clive James
Fitzgerald, Michael (2005) The genesis of artistic creativity: Asperger's syndrome and the arts.Jessica Kingsley Publishers.
[includes a chapter about Erik Satie]
Fitzgerald M. (2003). Erik Satie: An autistic musical brain. In: Proceedings of the Social Brain Conference, Goteborg, Sweden, 25th – 27th March, 32.
[unchecked reference]
Gillberg, Christopher (2002) A guide to Asperger Syndrome. Cambridge University Press.
[Satie mentioned]
James, Ioan (2005) Asperger syndrome and high achievement: some very remarkable people.Jessica Kingsley Publishers.
[includes a chapter about Erik Satie]
About David Byrne
"I was a peculiar young man — borderline Asperger's, I would guess."
Purcell, Andrew (2007) Imelda: the nightclub years. Guardian. January 29 2007.
http://music.guardian.co.uk/classical/comment/story/0,,2000888,00.html
Seed (magazine) editorial staff (2007) David Byrne + Daniel Levitin: the singer/songwriter and the neuroscientist meet up to discuss music. Seedmagazine.com April 30 2007.
http://seedmagazine.com/news/2007/04/david_byrne_daniel_levitin.php?page=all
Memorable fictional characters portraying autistic traits or themes
http://incorrectpleasures.blogspot.com/2006/11/memorable-fictitious-characters_3339.html
Lili Marlene blogs at Incorrect Pleasures, where A Disturbance in the Family was posted this past Saturday, November 27th.  It appears here with her permission.
Lili Marlene on 11/29/10 in Art/Play/Myth, featured | No Comments | Read More