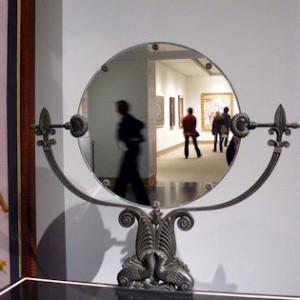 Although we tend to think of ourselves as separate individuals, all that we encounter while going through our lives becomes part of who we are, a process vividly set forth in Rachel Turiel's article posted yesterday on Shift Journal.  From the microorganisms that take up residence in our bodies to the ideas and information that we get from our society, there's a lot more involved in creating the individual self than we perceive.
The assumption of permanence is closely related to the concept of the separate individual.  Whatever self-image we have today is probably going to be about the same tomorrow.  We don't generally see ourselves as changing much, if at all; and while we may occasionally take a moment to reflect on the experiences we had when we were younger, we gain only a limited amount of insight into how much we have changed over the years.
A corollary of the assumption that we don't often change is the tendency to see others' identities as permanent and predictable.  Of course, looking at others in this way had evolutionary survival value in the days of violent tribal societies; back then, you weren't likely to live long if you didn't keep track of who might try to kill you.  And such conclusions didn't go far wrong in those days, either, when everyone had a rigidly defined place in society and knew exactly what it was.
In today's chaotic and rapidly changing world, however, the old rules have broken down.  We can't accurately predict by looking at a person today what he or she will do in the future.  There are more lifestyle options, more career opportunities, more social flexibility, and the potential for greater cultural and technological change than at any time in history.
And because our world has become so interconnected these days, we're also quickly gaining much more understanding of what's missing from the simplistic assumptions and stereotypes of the past, as Stephanie Allen Crist commented in response to my post last week:
"This is definitely a more rapid change than human beings are used to seeing–and that speed has caused its own resistance. But the speed of change is also understandable. We are able to connect with each other more readily, and see through our collective experiences that the "other" truly is ourselves."
When we consider how much our culture has taken for granted as permanent and how often such assumptions have fallen by the wayside in recent years because of social and technological changes, we may find the resulting lack of certainty to be a scary thing; but it's also quite liberating, I would say, to explore how many possibilities exist.
Gwen McKay on 12/8/10 in featured, Society | 4 Comments | Read More