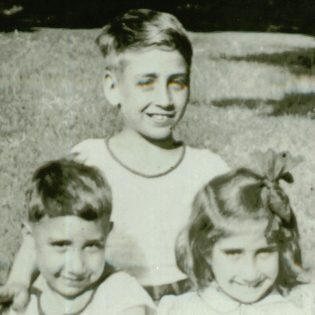 I want to share a photo of my father.  In the photo, he is about eight or nine years old, and he's kneeling behind his younger twin siblings.  Except for a photo taken of him as an infant, it's the only childhood photo I've ever seen of my father.
I've been haunted by this picture for many years.  Once I started realizing that my father had Asperger's, I finally realized why.  My father is doing something with his eyes in this photograph that makes me hurt inside:
He's looking at the camera, and not looking at the camera, at the same time.  He looks like he's in pain and trying not to show it.  His siblings are looking directly at the camera, while my father looks almost as though he's between worlds.
[full-size, uncropped photo here]
He almost always looked that way, like someone trying desperately hard to plow ahead while the world pressed in on him with a bewildering amount of intensity.  I don't know that it's possible to forgive the things he did when he was alive, but I understand him now.  He's no longer my frightening and tyrannical father.  He was someone in constant pain.  He felt completely alone and vulnerable, all the time, every day, for his entire life, and he had no words for it, and he had no one to talk with about it, and he had no community, and he had no support.  He was the man of the house—that was the beginning and the end of everything—and he looked straight ahead into the world and tried not to flinch.
It didn't work.  His pain came out in soul-crushing ways.
I complain a lot about the ways that the medical profession pathologizes us, but we have a big advantage over my father.  We have one another.  And the children coming up will at least have the words to describe who they are and what they feel, even if those words miss the mark.  It's a beginning.  It's something to work with.
It's more than my father had.
Rachel Cohen-Rottenberg blogs at Journeys with Autism.  A Haunting Photo appears here under the terms of this Creative Commons License.
Rachel Cohen-Rottenberg's memoir is The Uncharted Path: My Journey with Late-Diagnosed Autism.
Rachel Cohen-Rottenberg on 12/17/10 in featured, The Unconscious | 2 Comments | Read More