Social Tips for People with Aspergers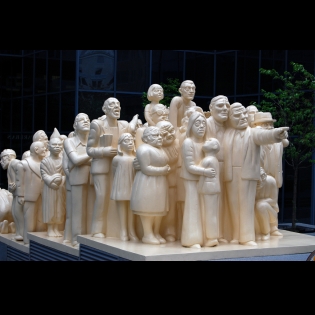 There comes a time in every Aspie's life, that having a life means facing our fears and going out into the world.  I love to sing, do stand up comedy, go to restaurants and sometimes (although very rarely) I even want to go to a party.  Does this mean I don't have Aspergers?  Of course not!  People with Aspergers want to socialize, but years of getting it wrong may knock the desire to try right out of us.  It is never going to be easy.
Performance, on the other hand, may be quite comfortable for many aspies, because people stimulate the amygdala in our brain causing a rush of adrenalin, perfect for belting songs on stage, or short bouts of witty banter.  But authentic communication in a crowd—and by a crowd I mean more than one—very difficult.  We get overloaded, awkward, bombarded, confused.  Rocket science may be simple, but social conversation is an unfathomable mystery for many of us.  Here are a few basics to help you in social situations:
Click through for Rudy's 16 social tips for people with Aspergers and 13 more "for those of you who are not on the spectrum but know someone who is."
The article closes with these two paragraphs; live links are included in the original version.
Wondering if you are on the spectrum? A good place to start is my "List of Asperger Traits" which I compiled from various sources when I was researching my first book 22 Things a Woman Must Know If She Loves a Man with Asperger Syndrome. I'm told it is a good list, perhaps one of the most comprehensive on the internet. (http://help4aspergers.com/pb/wp_4a3112c8/wp_4a3112c8.html)
Lastly, here is a Table of Female AS Traits that was born of my own research, when I was writing Aspergirls: Empowering Females with Asperger Syndrome. It has been making the rounds on the internet. I don't mind at all, and am happy to see people using it but do appreciate the credit. Thanks! (http://help4aspergers.com/pb/wp_a58d4f6a/wp_a58d4f6a.html)
Rudy Simone is the author of Psychology Today's Aspergirls blog as well as of several books for people with Aspergers.  She is also a jazz singer and a stand-up comic.
Social Tips for People with Aspergers appears here with permission.
Rudy Simone on 01/27/11 in featured, Society | 1 Comment | Read More