When Objects Resonate with Memory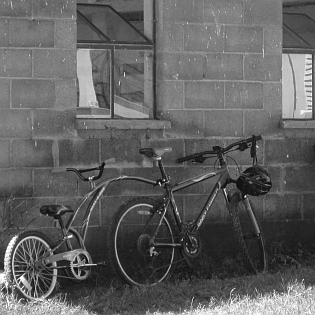 Over at Kitaiska Sandwich, Sarah has a great post about the upset that her autistic son feels when things get broken or spilled.  In reflecting upon the reasons for M's upset, she finds that his response may not derive simply from a sensory experience, but also from a certain amount of grief over the fact that things can cease to exist.  This post is one of Sarah's best, and I urge you to read it if you haven't already.
I've decided to post a slightly modified version of my comments to Sarah's piece, because I identify with her son's feelings so keenly, and because her post helped me to articulate my own experience regarding objects and the associations that they carry with them.
I recognize in M the grief I feel in myself when something breaks or gets lost.  I've had that kind of grief all my life.  It's not overwhelming grief, as when a person dies; it's more a sense of keen disappointment at something passing.  And that something isn't just the object, but the associations I have with the object.  In fact, I'm not sure that it really has to do with the object per se, although the object is definitely the marker.
For many of us on the spectrum, objects aren't just objects, but full of associations.  I have very strong emotive associations with the things I own—which is one reason that I don't own a lot of things, and that I don't buy things that can be easily broken or lost.  (In order to avoid cluttering my house, I am always giving things away, which I find both difficult and extremely liberating.  Somehow, knowing that they will go to another good home is different from simply losing them or finding them broken.)
I can remember the day I got each of the rocking chairs in my living room:  where I got them, who I was with, what the light was like, what time of year it was, and how I felt.  The same holds for everything I have.  Everything has some sort of emotion or memory attached to it—even the very ordinary set of dairy plates that I bought at The Dollar Store when we first moved into our house.  Given that we autistic people tend to have extremely vivid visual and emotive memories, an object can end up being resonant with feeling, even if it looks like a very mundane object to other people.  So, when something gets lost or broken, it can feel as though its whole history has gone with it; the event is a reminder that those experiences are in the past, and that time moves on.
There's a sadness there that goes way beyond the object.  I wouldn't minimize the extent to which a child feels this sadness; what people sometimes lack in language, they more than make up for in depth.
I'm thinking that an autistic child may believe that his or her parents have the same strong associations with objects, and so may feel upset on the parents' behalf, which only increases the level of distress.  I can remember feeling that kind of empathic grief from a very young age, because my parents tended to react very emotionally to things, and I felt their emotions very intensely.  If parents can stay calm in the midst of a mishap—as Sarah has been doing—it lets the child know that the parents are not grieving broken items, and it undoubtedly helps the child shift perspective.  As I grew and spent more time around people who reacted calmly, I began to react more calmly as well.
And, of course, objects associated with painful memories can trigger very difficult emotions, which leads me to wonder:  when an autistic child ends up in an otherwise unaccountable meltdown, could it be that he or she sees a reminder of a painful, frightening, or overwhelming experience?
Rachel Cohen-Rottenberg blogs at Journeys with Autism.
When Objects Resonate with Memory appears here by permission.
Rachel Cohen-Rottenberg's memoir is The Uncharted Path:  My Journey with Late-Diagnosed Autism.
[image:  Rachel Cohen-Rottenberg]
Rachel Cohen-Rottenberg on 03/31/11 in Art/Play/Myth, featured | 1 Comment | Read More