The Eternal Song, Part Three: Hunters or Hunted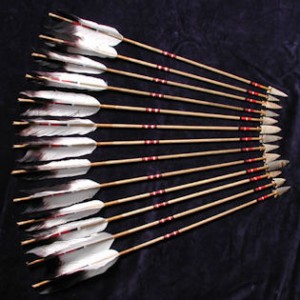 Already the sun had traveled well past its midpoint, and Tahu-at had not seen even one antelope. They were fewer each year, as the settlers took more of the island's grasslands to pasture their sheep. Tahu-at still carried his bow and arrows, in an abundance of optimism; but most days, there was nothing for the cooking pot except a rabbit or other small game caught in a snare.
So far today the snares all had been empty, as he made the rounds with his brother Iwai. A talkative child of almost ten years, with sandy hair falling to his shoulders in tangled locks that much needed combing, Iwai was thinner than Tahu-at would have liked. Many of the People went hungry these days, while the settlers prospered with their fat herds and fishing boats.
Tahu-at plucked a few blades of grass and chewed them slowly. Their bitter taste distracted him from both his empty stomach and his resentful thoughts. Over the next rise, there would be another snare. Surely it was not too much to ask the God of the Hunt that there might be a rabbit in it. A nice fat rabbit, just right for stewing with some dried roots and spring greens…
He saw it clearly as he climbed higher. Exactly as he had pictured it in his mind, a large rabbit dangled in the branches of the olive tree where he had set his snare. His steps quickened, cresting the rise; and then he saw the settlers standing near the tree.
There were four of them, big brawny men with dark hair and close-cropped beards. Speaking among themselves in the alien language that sounded to Tahu-at like a pack of wild dogs snarling, they gestured to one another while looking up at the rabbit. Then one of them stepped toward it, making ready to cut it down.
"They're stealing our rabbit!" Iwai's high voice piped indignantly. "Thieves! And they don't even need it, with all their sheep, and the strange crops they plant on the land they take from us…"
"Hush, they'll hear you." As Tahu-at spoke, he could still taste the bitter residue of the grass he had chewed. "It's only a rabbit. We'll find another."
"If you're too much of a coward to tell them to give it back, I will!"
Before Tahu-at could grab him, Iwai had taken off running toward the settlers. There was no doubt they saw him now, as they pointed and laughed. The man who had been about to take the rabbit turned instead to face Iwai, as the boy came nearer. He scratched his chin while listening to the boy's words, which of course he could not understand, before taking a quick step forward. Then he seized Iwai by the shoulder, picking him up at arm's length and shaking him as a dog might toss a rat in its jaws. The other settlers laughed again.
They didn't look as amused a minute later, when Tahu-at had his bow in his hands and an arrow aimed at his brother's captor. Iwai struggled and kicked, but to no avail. Another man raised a weapon, pointing it at Tahu-at. It was the settlers' most feared weapon, the thunder-stick that could throw shot faster and farther than any sling. Tahu-at pivoted, sending his arrow at the armed settler. The thunder-stick fired at the same moment. Tahu-at felt a sharp pain in his right arm just as the settler crumpled with the arrow in his chest, dropping the alien weapon into the tall grass.
Iwai turned his head and sank his teeth deeply into the hand of the man holding him. With a yelp that sounded as much of surprise as hurt, the settler loosened his grip just enough for the boy to wriggle free. Iwai pelted back toward his brother, and both of them fled back down the hill they had just climbed.
There was a ravine not far away, thick with brush and trees that could hide them. Tahu-at flung himself down its steep slope, grabbing at branches with his left arm for balance, heedless of thorns. The right hung uselessly at his side, most likely with a broken bone. He could not look at it now.
Iwai, who had gotten several steps ahead of him, paused to look back. "You're hurt, you're bleeding."
"It's nothing. Keep going."
The brothers made their way along the ravine, pushing their way through the heavy brush, until the distance and the silence made it plain they were not being pursued. Only then did Tahu-at stop to let Iwai bandage his arm with strips of coarse cloth torn from his shirt. He would have to think of some explanation for his injury before they returned to the village. The Grandmothers always warned against trying to fight the settlers; and they would surely be displeased if they knew the truth of the matter, even though he had been left with no choice.
Part Two: Rehearsal.
Part One: Beauty.
Gwen McKay on 05/4/11 in Art/Play/Myth, featured | 4 Comments | Read More