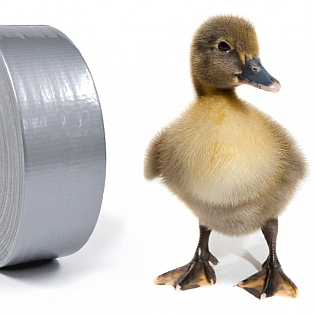 I'm always very interested in the observations of parents regarding the literal nature of their autistic children's thinking.  I've read many tales of children who take idiomatic expressions literally, with some very humorous outcomes.
Consider, for example, the experience of Fiona, who blogs at Wonderfully Wired and writes this post about her children's literal interpretations.  In one scenario, she talks about her daughter Ella:
"I asked her to help me clear the breakfast bowls off the table and because the dishwasher still needed unpacking from the night before, I asked her to just "toss" the dirty bowls in the sink and I would deal with them later.
So she did.
From almost a metre away.
And they ALL broke.
She couldn't understand what the problem was, I had said to toss them!"
Now, I don't know about you, but I think that the whole scene is incredibly cute and completely hilarious.  (Of course, I didn't have to clean up the broken dishes…)
The thing is, though, that I don't remember ever taking idioms literally as a child.  I had other forms of literal thinking.  For instance, I tended to take people at their word.  When people spoke, I'd see the word pictures in my mind, and the words became living, breathing entities.  It took me a while to figure out that I had to wait for follow-through, and that people might not always mean exactly what they say.
I also remember an occasion in which I broke down in tears of disappointment after my father used a word in a different way than he'd ever used it before.  My parents always used to refer to cupcakes and other baked goods as "goodies."  Then, one day, when I was about five years old, my father brought a box home and said, "Look at all the goodies I brought for you!"
I had images in my mind of chocolate cupcakes with multicolored sprinkles on top.  My mouth was watering.
Imagine my surprise to find toys instead!  Now, you'd think I'd have been thrilled, but I'm sorry to say that I broke down and cried inconsolably.  My parents, who were not the most sensitive people on the planet, just laughed and told me that I was being ridiculous.  They didn't realize, of course, that they had switched the meaning on me, and that the picture in my mind was so vivid — and so scrumptious! — that I felt as though I'd been had.
But even as a child, I loved metaphor and wordplay.  They gave me great delight.  And I know other autists who do, too.  So I began to wonder whether understanding wordplay stands in opposition to literal thinking.
I've discovered that, for me, it doesn't.  In my mind, the literal meaning and the figurative meaning work together.  In fact, it's the combination of the two that makes wordplay so much fun.
Take, for example, the expression, "It's raining cats and dogs."  When I asked my non-autistic husband what he saw in his mind when he heard this expression, he said, "Nothing. I just experience it as a metaphor for heavy rain."
In contrast, when I hear the expression "It's raining cats and dogs," I literally see the word "cats" and the word "dogs" falling down like rain.  I also see the literal rain — in fact, the words are falling with the rain and splashing into puddles — but I don't see visual images of cats and dogs.
The fact that I think in text may account for why I understand the wordplay.  Words are symbols, so I've already made a partial translation toward the metaphor before I've begun.  The words falling like rain are what make the wordplay so enjoyable, because my mind is literally playing with the words.  I've been seeing words in this way for as long as I can remember.
However, despite my understanding of metaphor, I sometimes find myself becoming impatient when people are speaking and using sarcasm, irony, and any humor that involves a meaning the opposite of what is being said.  It's not that I miss the double meaning.  I know it's there.  The problem is that I have to work so hard just to keep up with the literal meanings of the words that I sometimes don't have the energy to switch cognitive circuits and address the figurative meanings.  And because I see word pictures in my mind when people speak, and I have to read them in my mind and then respond, my processing is delayed.  I therefore find it difficult to switch circuits into the figurative meaning and keep up with the rest of the conversation, too.
It's as though I'm always working on two levels.  The nature of my auditory processing means that I have to work very hard at simply parsing the literal meaning of speech, and that I'm working overtime just to keep up.  And my love of wordplay means that I intuitively understand when the literal meaning is not what is meant.
So, when my husband lovingly teases me at dinner by saying something the opposite of what he really means, it can feel very tiring.  I understand that he's being loving.  I really do.  It's just that I have to listen so intently that I'd prefer he just come out and tell me what he means.
But if he writes things with irony, with sarcasm, with teasing, with double meanings?
I love it.  I thrive on it.  It's like eating chocolate cupcakes with multicolored sprinkles.
So, I wonder how much of the literal thinking of autistic people comes from difficulties with auditory processing, rather than a failure to understand metaphor.  For people who think in visual pictures (seeing actual cats and dogs falling, for example), is the problem that they don't understand the metaphor?  Or is the problem that they have to work so hard to keep up with speech that it's difficult to switch between the literal words, the pictures they call up, and the intended meaning?
I'd love to hear what you think.
Rachel Cohen-Rottenberg blogs at Journeys with Autism.
On Literal Thinking appears here by permission.
Rachel Cohen-Rottenberg's Memoir is The Uncharted Path.
Rachel Cohen-Rottenberg on 07/8/11 in featured, Language | 13 Comments | Read More