Thinking In Binary: Recently at Reddit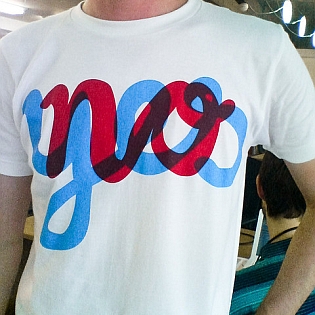 This conversation (below) along with a parallel comment on another thread caused me to dig up a Douglas Rushkoff quote that keeps coming back to me:
"The digital realm is biased toward choice, because everything must be expressed in the terms of a discreet, yes-or-no, symbolic language. This, in turn, often forces choices on humans operating within the digital sphere. We must come to recognize the increased number of choices in our lives as largely a side-effect of the digital; we always have the choice of making no choice at all."
And this was exactly the invitation extended in the post being discussed below: to make no choice at all; to respond with neither a yes or a no, but to entertain the premise it described.
We have largely lost this art of entertaining ideas. The only correction I would suggest to Rushkoff's observation is that the "discreet, yes-or-no, symbolic language" of blacks and whites and ups and downs, the 0's and 1's that underlie the entire vocabulary of our digital realm, is one that's been in development at least since Descartes and ye olde body-mind dualism. The "binary" of computer programming languages was thus arguably a cultural choice forced on early programmers whose "analog sphere" had been trending binary for generations.
And never mind autism during the Enlightenment; when we look at contemporary autism through these binary, either/or lenses, we get exactly the goofy, paradoxical absurdity described so well earlier today by Neuroskeptic, in Mountains of Mental Disorders.
It's not just the digital realm described by Rushkoff that's "biased toward choice." And it's not a bias, in any realm, that favors autistics, or — as Neuroskeptic seems to make clear — those who would understand autism.
*******
Were autistics, as atheists and agnostics, the engine that drove the European Enlightenment?
Redditor 1: No, smart people did.
Redditor 2: The guy is autistic and is trying to claim the enlightenment for his own. The Enlightenment figures were hardly autistic. Many owned political positions or sought them out and were socialites even if they were only socialites among other intellectuals.
Redditor 3: this, EXACTLY
Author: Ableist much, guys?
Redditor 4: Ah, yes. Nobody agrees with you and so we must be discriminating.
Author: Disagreeing about the Enlightenment is legit. Implying that autistics cannot be smart and capable is ableist.
Redditor 4: I think the main argument is that many of the influential people were socialites and politicians.
One guy did say "no, smart people did". Hopefully he just means that they were smart, just not autistic.
My little brother is autistic. He is incredibly smart. He does have problems socializing, pretty common for people with autism.
Author: Then you know about autistic obsessions with pattern-finding and with specific subject interests. There ain't no social joy in the world like that between autistics who share a special interest, and during the Enlightenment we were minting new special interests as fast as we could identify the patterns that wove them together.
I'm also guessing the Enlightenment was not such a socially-oriented, extrovert-driven age as ours is, and that the social environment was friendlier to eccentrics, and not so disabling to autistics as it is today.
Even so, as for politicians today who exhibit an autistic cognitive style, good gawd, look at Australia's Kevin Rudd, or America's Al Gore. As for socialites, an autistic cognitive style doesn't preclude you from getting involved in your community, especially in a way that involves your particular obsession (and especially if you have charitable funds to pave your way). I know autistics who do so, and one in particular who is capable of working a room handshake by handshake like a politician. He can also be a terror to his co-workers, precisely because of this combination of machine-like self-assurance and tunnel vision — but all he lacks to be a socialite or a politician, I'd say, is the ambition and the money.
And no one has said in any case that socialites were not involved in the Enlightenment; I call straw man on that. The influential people of the Enlightenment to my mind though were the scientists, thinkers, and writers. If we're going to reduce everyone to a narrow, exclusive label, "socialites" may have spread their ideas, but they did not originate them.
Redditor 4: I could see that. But to say that the entire enlightenment was driven by autism is kind of a big leap without proof, considering Autism wasn't officially recognized until around the 1940s and any speculation about people before that is based on reported behaviors rather than any actual clinical observation.
Autism is considered a mental disorder. You cannot say that everyone that is eccentric or creative has autism. That creates a problem for people that are actually impacted by it. This article highlights alot of the problems with diagnosing autism/asperger's today.
Author: Homosexuality was considered a mental disorder not so long ago, and still is in some quarters. Shift Journal is all about the big leaps; go back and read the first month or so. No one sails to new lands without consenting to lose sight of the familiar coastline.
As for your article, while I'm all for everyone who needs accommodations getting them, I'm all about less diagnosis and more recognition of the autistic cognitive style as an everyday, everywhere, under-the-radar, been-here-all-along daily companion.
edited to add: When accommodations for autistics are freely provided as a routine matter of common understanding, shared culture, and simple human decency — rather than compelled only in individual cases by a note from a licensed physician — then the famous "problems with diagnosing autism/asperger's" simply evaporate. And along with them a good bit of the DSM's carefully defined "impairments."
Redditor 4: The only impact homosexuality has on the lives of homosexuals is from discrimination and possibly hemorrhoids.
I'm open to the idea that many of the thinker's were autistic or had autistic tendencies. There needs to be more proof though before you can assert that.
In Autism and creativity: is there a link between autism in men and exceptional ability? Michael Fitzgerald posits that Hitler may have been autistic. Andreas Fries wrote an article suggesting the same thing. It's all just speculation though.
Author: Not following your lead sentence, and am not sure I need or want to.
And again, straw man: I'm provoking you to consider a possibility. Apparently I've done so so effectively that you're chiding me (and Fitzgerald and Fries?) for having asserted it as fact.

Redditor 4: I'm saying that to diagnosis someone with autism the person needs to exhibit at least six symptoms of impairment (at least two in social impairment, at least one in communication impairment and at least one in repetitive behavior). There were many reasons homosexuality was classified as a mental disorder and none of it had to do with impairment.
I'm not chiding you, I'm just pointing out that without proper evidence (which apparently you don't need because you're only trying to open my mind) anyone can make assumptions about mental disorders in history. You can say that the enlightenment may have been caused by autism and others can say that the holocaust may have been caused by autism.
Author: I get your first point now but I think among the religious right you can still find the social construct of homosexuality as an impairment. Your reading of the DSM requirements is correct (though oddly subject to correction, once again, with the next edition). My point is that autistic impairment is in significant part a social construct; your citation of the DSM seems not to recognize this.
Yes. I thought you were trying to get me to back off with the Hitler example. Look, it's a free marketplace. You can say whatever you want. Me, I don't think there's any call for us all to shut the f*** up until the historians and neuroscientists are all equipped for time travel. I do think it's a lot more simplistic, a lot more reliant on the "Great Man" theory of history, to suggest that autism caused the holocaust (what, no props for scapegoating, psychopathy, and denial?), but go ahead. I'll be right here.
Autism may be somebody else's sacred cow; it's not mine.
Also, where's the rulebook? Didn't you just automatically lose by invoking Hitler?
Redditor 4: I'll probably look into it more. I just skimmed the article, but it is an intriguing thought. From what I read though the first part seems to draw conclusions from a premise that doesn't support that conclusion.
"Autistic people have trouble with belief, during the enlightenment many people questioned belief, therefore many of the great thinkers were autistic."
Author: Um, how about "Autistic people do fine without belief" sted "have trouble," k?
Mark Stairwalt on 10/12/11 in featured, The Unconscious | 10 Comments | Read More