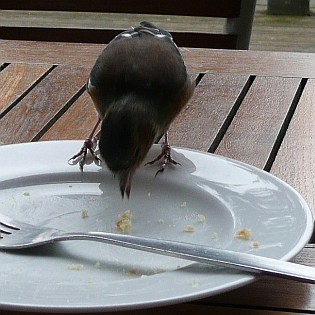 Especially in youth, an extreme introvert feeling little commonality with the surrounding society must find ways to nourish the spirit even through the most trying times.  A life on the fringes is sink or swim.  You either find ways to take care of yourself or you just don't make it.  To this day, I tend to be very reverential of food and intolerant of wasting any usable resources.  A subsistence survival sort of mentality got drilled into my head early on.  Though I never went hungry growing up, I'm the sort of person who likes to eat every last grain of rice or sop up the crumbs and juices left over from a meal with a piece of bread until my bowl is clean.  My stomach lurches when I see someone throwing out food.
Most people I meet dread the passing of time and aging.  I feel the passing of every day to be a gift, especially if it passed without too much trouble.  I will see having a white head of hair as accomplishment because I have a feeling of good fortune and privilege to make it even as far as I have.   My life has rarely been in serious physical danger, yet I feel I've had to claw every inch of the way out of stone.  I feel I've already been alive nearly forever yet most others consider me to be quite young.
This sort of mentality, this subsistence of the soul is an attitude that utterly baffles most people I encounter.  Rather, they find my actions strange because they know nothing of the code by which I act.   How would one even begin to explain face to face in a way that really made sense?  Would one want to if one could?
Do I really want to explain that every grain of rice, every red cent is another precious second of my life won from the birth society's capricious standards and demands?
That I still make the most out of every grain of rice as I had to with every good feeling and happy moment?
That cultivating such reverence produces the sort of emotional rewards that make life worth living?
Though it could be tough to hold myself together in the worst times, I would find myself inspired to joy by things people around me didn't even seem to notice.
Living with a lean soul has had its advantages.  I find I require far less than others around me to be content with life and therefore there are less things I fear losing.  I have an ongoing relationship with death in my everyday life while others postpone the very thought of it until telltale signs of aging can no longer be ignored or covered up with denial.
Most importantly, living by subsistence of the soul has the potential to teach one: fulfillment when distilled to its quintessence has very little to do with pleasure.
Zygmunt blogs at Kingdom of Introversion (and elsewhere).
Subsistence of the Soul appears here by permission.
[image via Flickr/Creative Commons]
related: Any Small Thing
related: Introverts: Denizens of a Social Ghetto
Zygmunt on 11/28/11 in featured, The Unconscious | 1 Comment | Read More