Introvert vs. Extrovert: Restaurants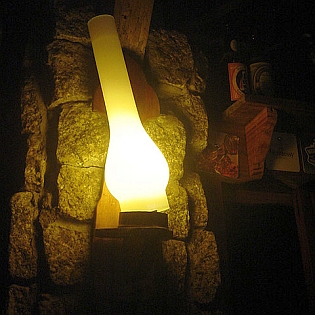 I found the ideal sort of introverted restaurant in England.  It's a dying breed of restaurant except perhaps in the countryside where only 20% of the country's population lives.  It's another Britain really, as foreign to the rest of the country as is the Continent.  This sort of restaurant is called a pub.
Every small town has at least one.  Often, the building was originally an old stagecoach inn that serves up the same sort food it would have 300 years ago.  Upon entering, it's clear the average person used to be shorter.  A modern person of average height stands just a few inches below the ceiling.  It's like entering a comfy hobbit hole.  The stone walls are often clearly the uneven type thrown together by hand.  Usually, there is a crackling fire on the hearth.
Pubs are typically quiet places.  They are meeting places for the locals.  Not just rowdy men or young people but entire families.  On slow Mondays, Tuesdays, and Thursdays there's usually a quiz night or some other special occasion to attract patrons.
There was a feature of pubs that at first absolutely stunned an American like me:
You have to go up to the front and order food yourself when you're ready.  If you just sit there, no waiter will come to pester you.
Once you've gotten your food and drink no one pressures you into asking for the check and getting the hell out of there.  In fact, it's routine for people to stick around talking for a long while even after they're done sipping at their beers.  No pressure, complete relaxation.
And the beer:  It's primarily what's called 'real ale' in Britain.  It's dark, bitter, thick, and foamy.  It's liquid bread that would fill you up before you could ever get very drunk off of it.  It's often served only as cool as a cool cellar.  It makes one tranquil, warm, and drowsy on a rainy winter day when the sun goes down by 4 PM.
The menu at a pub rarely has more than half a dozen different entrees.  Choosing a meal is always quick and simple.  After having a steaming, piping hot steak and ale pie one might wonder why British food has such a horrible reputation.  Culinarily, the British are the masters of desserts served hot.  In the cold and clammy climate of the UK there's no delight greater than a freshly prepared berry tart or treacle sponge drenched in lots of hot custard.
This pub experience was all an immense departure from the norms of my home country and from the majority urban UK.
The typical American restaurant is a corporate chain in a rush to make quick profits.  Customers are rushed to tables and are pressured to make decisions within a few minutes of sitting down.  "Do you need another minute?" the waiters ask with nervous sweat visibly beading on their brow.  I often wonder if they'd be in fear of getting fired by their manager if I told them "No, I'm going to sit and chat with my friends half an hour over an ale before actually ordering any food."
Actually, it's not uncommon for a typical American waiter to turn nasty if they think you've taken too long.  They adopt a petulant sneer and start pretending you don't exist once you've figured out what to order at your leisure.
An American restaurant is not so different from a night club!  The noise level is usually astonishingly high with hordes of people crammed in close proximity.  Customers are brought in and out of the establishment on a conveyor belt.  Time is money!  One can observe a freshly abandoned table wiped down and reset within a few seconds by frantic workers.  Such a scene resembles a pit crew changing tires on a race car.
Who would ever want to sit down and have a meal in such horrid adrenaline drenched atmosphere?  Clearly, though this place must have a strong appeal to most customers.
What could this appeal possibly be?
Anyone who's worked in restaurants, retail, or hospitality already probably has some idea of the answer.  It becomes clear that certain customers get a rise out of an environment teeming with stressed out underlings at their beck and call.  An ugly truth about many people: feeling powerless in their everyday lives, they love nothing better than a clerk or waiter to lick their feet and massage their perpetually bleeding egos.
I often have trouble getting any relevant information about a restaurant when I look up online reviews.  More than half the time, people have little to say about the food but instead obsess endlessly about how their waiter was five minutes late with their drinks.
No matter what one's rank in America, one can always go to a restaurant and have an attractive, well-dressed young person grovel and make silly insincere recommendations about a menu they've never actually been able to try out for themselves.  I strongly suspect this pre-packaged subservience plays a role in how people justify paying the substantial bill of eating out.
Unfortunately, the introvert, though harboring as many frustrations as anyone else, has little desire for this rent-a-sycophant system.  No sooner has a menu been opened than a staff member descends like a gadfly, making obsequious sales pitches and asking for a decision with desperation that's thinly masked by a grin.  The hurry, the noise, the sheer ugliness and venal nature of the entire outfit!  Few places could seem more unappealing to an inward oriented person.  There's no possible way to communicate to that waiter to do away with all the hurry and pretense.  Even if the waiter could be made to understand, they would be compelled to stick to form by the expectations of their boss.  There's little to do but to focus on the positive aspects of the meal, still knowing well that the experience could easily be immeasurably better.
The Loud person never seems to understand that the human body is not just a machine.  We do not fill ourselves with food as a car is filled with fuel.  The circumstances in which we sit down to eat, who we sit down to eat with are just as important to our nourishment as any physical quality of the food itself.  To be relaxed at the table is to be a free person.  To be stressed and hurried even at the dinner table is to live as the most abject of slaves…
Where socialites take over, social institutions that might support Subtle people die out.  Restaurants, like so many other aspects of life, have become little more than a reflection of the sheer desperate ambition of a Loud majority.
Zygmunt blogs at Kingdom of Introversion (and elsewhere).
Introvert vs. Extrovert: Restaurants appears here by permission.
[image via Flickr/Creative Commons]
Zygmunt on 01/2/12 in Art/Play/Myth, featured | 8 Comments | Read More