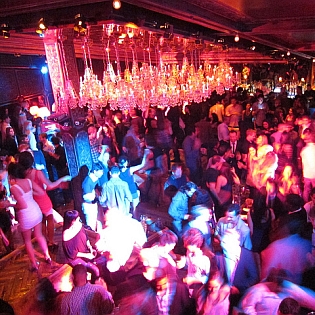 Night clubs embody a mentality that is inimical to my own. That is exactly why I have been drawn to them on occasion.
To grow we all need challenges and changes. Putting oneself in an unfamiliar insecure place is a good way of doing so.
I hate all the latest pop music and dislike dancing to it even more, yet I would get myself out on the dance floor and experiment.
Strangely, I find there is a place for night clubs in the life of an introvert.
Night clubs are full of crowds so it's like an arena full of bumper cars at an amusement park.
No matter how much you screw up, there's no real consequences.
Short of threatening or physically assaulting someone, you can try what you like and see what happens.
You'll make a fool of yourself again and again, but you're a stranger. You'll never again see all those other people.
You can keep trying and trying until you're up to speed with everyone else.
At a night club, an introvert has that great ally of anonymity on their side.
Really, it's not so different from posting articles online under silly pseudonyms such as "Gluon the Ferengi."
You don't even have to make a whole lot of conversation, the music is so damn loud most of the time that no one can really say anything except by shouting at the top of their lungs into each other's ears. It really is reduced to raw chemistry.
For introverts who are behind in social development, bars and nightclubs can be a lifesaver. They are a place to remedy HID(Human Interaction Deficiency); it's easy to satisfy the craving for physical contact with others. They are laboratories for scientific experiments in human social behavior.
Indeed, there's no better place to take a starry-eyed romantic than a night club. In a night club, the reproductive market is laid bare. About 10% of men get most of the female attention. The rest of men struggle tooth and claw for the crumbs left over from the feast. Women get in free; men pay a cover charge. The currents of supply and demand reign supreme.
The lesson:
Women are valuable, the perpetuators of the species. Each is a bottleneck determining the potential for growth of the human population.
Men are cannon fodder, plain and simple. One man left alive after a slaughter can fertilize thousands of women.
But the top few men are the most valued humans of all.
Now, I have said before that I don't consider myself to be one of the pickup artists. Their cynical, nihilistic ideas are a moral and intellectual dead end.
I don't like the whole zero sum mentality of night clubs, but they do reveal our underlying instinctual drives and the social trends that must inevitably result.
If you observe one night in a night club you will understand why it is men who go to war and not women.
All those traditions that were simply handed down to us are suddenly explained.
Pickup artists embrace the nightclub mentality. As for me, going to clubs is a way of getting to know the enemy: ourselves.
If a Subtle person is to turn away from the surface world, they should first know what they turn from and why.
In night clubs, one can find the very quintessence of the Surface world. Everything you need to know to make a decision can be found there.
Ultimately I find:
The surface world has many privileges and pleasures, but is weak when it comes to meaning, purpose, and fulfillment.
Fulfillment is the greater good to me, even if happiness were the price. For the word 'happiness' in our modern language is just another of the pleasures.
Zygmunt blogs at Kingdom of Introversion (and elsewhere).
Introverts and Night Clubs appears here by permission.
[image via Flickr/Creative Commons]
Zygmunt on 01/16/12 in featured, Society | 6 Comments | Read More