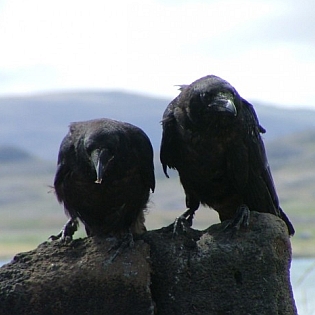 Popular belief would have it that being effusively social in nature is to be more empathetic, more in tune with others' feelings.  I would say from personal observation however that the opposite is true.
Extroverts are adept at picking up every little sign that flickers across the surface.  They are excellent at functioning in groups, quickly perceiving hierarchies and balances of power.   They know how to be friendly to everyone when it suits them, and will talk about their personal matters to anyone.  They love to be around people as a whole but not necessarily persons.
This is where the introvert reigns.  One who knows how to listen, who isn't worried about dominating a given social interaction is far better at dealing with people one on one.  Introverts understand that most people's public persona is just a defense and are intrigued by what lies underneath.  They understand it takes time and patience to know someone well, that one cannot really be spoken with until they are removed from surrounding social pressures.
An extrovert considers those who fail to impress them in the first two minutes boring.  Persons are a commodity, if one fails to entertain, there's always another more sensational channel to flip to.  The crowds of people they gravitate towards ensure that there is an unlimited pool of persons through whom they can rotate at will.  Extroverts are perhaps thought to be the empathizers because they loudly express sympathy should they learn of anyone's misfortune.  Then they move on to the next thing.
An extrovert measures their social life and that of others by how many friends, social contacts, how many social events they are invited to.
An introvert measures their social life by the quality of the people they have chosen to count as friends and of those whom they have had the opportunity to know.
When the world has turned on you, when you need someone to listen and understand, or at least really try to understand what you've been through.   It is an introvert you are searching for.


Zygmunt writes on matters of introvert culture at Kingdom of Introversion.  The Myth of Extrovert Empathy appears here with his permission.
Zygmunt on 11/9/10 in featured, Society | 3 Comments | Read More