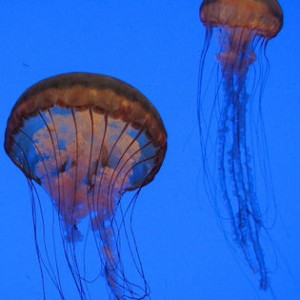 Those of us who have raised children know what often happens after pointing out muddy footprints on the floor, dishes left on the table from an afternoon snack, or some other dereliction of duty.  With an indignant look on his or her little face, the culprit declares, "But it's not my fault.  I didn't mean to do it."
Can most adults better understand the concept of being responsible for their own messes?  Although it might seem reasonable to expect that they would, a new research study dealing with theory of mind suggests instead that many people see good intentions as paramount.  The study, conducted by researchers at the Massachusetts Institute of Technology, compared the responses of autistic and non-autistic participants when presented with moral judgment scenarios.  The researchers found a significant difference in how the two groups viewed situations such as the one described here:
Imagine this: Janet and her friend are kayaking in a part of the ocean with many jellyfish. Janet had read that the jellyfish aren't dangerous, and tells her friend it's alright to swim. Her friend is stung by a jellyfish and dies.
Who's to blame?
Researchers who used this scenario in a recent study found that people with autism were more likely to blame Janet for her friend's death than people without autism. Most normally functioning people understand the death of Janet's friend was accidental, because Janet didn't realize the jellyfish were poisonous, they said.
This study left me wondering: Do most non-autistic people really believe that having good intentions means they can't be to blame for anything?  If so, I'd say that goes a long way toward explaining the breakdown of accountability in today's society and in the political sphere.  To his supporters, George W. Bush came across as a nice friendly well-meaning fellow, as someone they might like to sit down with and have a few beers on a Saturday night.  Even if his war in Iraq cost thousands of lives and wrecked the economy—well, he didn't intend for that to happen, so it wasn't his fault.  And as for New Orleans ending up underwater because the levees weren't being adequately maintained, nobody thought they would fail; it was just an accident.  Oopsie.
It should be noted that there is an entire field of law—negligence—that specifically deals with assigning fault for accidents.  The case law in this area is quite comprehensive and has developed over many centuries.  There's nothing at all new, and certainly nothing pathological, about the idea that a person can be at fault for an accident or mistake regardless of his or her intentions.
What's going on here might be more accurately described as a collision of worldviews.  Some people need constant social validation; their entire identity depends on being reassured at all times that they are good people doing everything right. This group has been feeling increasingly beleaguered in recent years, as one social justice movement after another has challenged their prejudices and forced them to change their ways.  Now, like petulant children, they seem to be declaring that not only is it perfectly fine for them to leave their dirty dishes all over the house, but anyone who's mean enough to say it is their fault must be abnormal.
related: Good Manners Reconsidered
related: Are Autistics More Honest?  If So, What Then?
Gwen McKay on 02/2/11 in featured, Politics | 5 Comments | Read More