Friendship, Intimacy, the Autistic Cohort, and The Social Network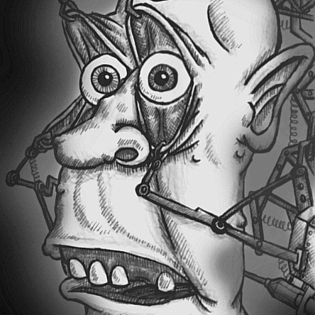 There is a stemwinder of a review of Aaron Sorkin's film The Social Network that surfaced this week at Hacker News, one which manages to weave in many of the themes treated here at Shift by various contributors.  The reviewer Dan Haggard identifies himself as a PhD student at the University of Sydney and maintains a wide-ranging eponymous website bearing the tagline "for those who like to think." While the essay in question actually appears at his other site Reviews in Depth, both deliver what's advertised on the tin.
Haggard's The Social Network, the End of Intimacy, and the Birth of Hacker Sensibility in fact had me literally leaning forward in my seat as I began to see how he was tying together the unlikely threads laid out in the early sections of his essay.  There is little room here to address the larger argument he's making, but you may find it a riveting one if you're drawn to this site in the first place – and you can settle in for a longer read than what's on offer at Shift.
The movie The Social Network of course chronicles the founding of the social-networking website Facebook.  For our purposes just now, we can say that Haggard takes issue with what he finds to be the movie's central premise, that
… the hackers, driven by their alienation and inability to establish intimate relationships, are busy remaking the world in their own image. The ironic knot at the heart of this narrative is the way that this project serves to undo the protagonists, as their own inability to engage in intimate behaviour comes to be deployed against them time and time again. They are depicted as blind to the fact that they are the architects of their own misery, as well as the inevitable misery of countless others.
Those then who argue against the acceptance of autistic as a legitimate way to be in the world do see in the movie a confirmation of their direst predictions and their deepest horrors; Haggard in fact makes this point explicitly:
The assumption is that because the hacker/nerd in his aspergic brilliance is incapable of engaging in successful signalling behaviour, they are therefore locked out of the society that intimacy allows. Further, this drives them to deconstruct the entire notion of intimacy and unleash their own horror over the entire world.
The refutation follows:
I don't think it is very difficult to see why this image of the hacker is completely wrong. While it's true that nerds (if I can use this pejorative term for a moment) are cursed with an inability to correctly signal to the wider range of people they're likely to encounter, still this fact has only served to INCREASE their potential for engaging in intimate relationships, not decrease it. It just locks them out of achieving intimacy with the cool kids. That doesn't mean that they don't achieve intimacy at all. What's more, it causes them to develop a sense of the intimate that goes far beyond what is likely experienced by most other people in society.
Yes, I too hear the sputtering, the comical, derisive spit-takes by those for whom The Social Network serves as a comfort and a confirmation of their own superior social adaptation.  There is a very like argument however that's been put forth at Shift already by contributor Zygmunt, here from his brief essay The Albatross:
The introvert friendship is seldom, but it is based on a deep loyalties that are not so tied to place and circumstance as a bond quickly and adeptly acquired. More specifically, the introvert friendship exists underneath the tumultuous surface of the mass society. Companionship, fellowship, and maintenance are all one and the same. There are no chores to perform in the introvert friendship. It is self-sustaining and a source of renewal for those involved. It lasts a lifetime, outside of the larger society, outside of time.
Whichever angle from which you approach the cohort, whichever nomenclature you prefer, be it aspergic, introvert, hacker, nerd, autistic, artistic, or otherwise – the common thread here is that there is tremendous bias to see disability in the very place where ability is keenest, a bias that takes place perhaps at the level of psychological projection.  Multiplied over by billions a blind spot such as that is the stuff of nightmares, and the gathered momentum of Haggard's essay is focused on helping the reader to look this particular collective nightmare in the eye.  What I've relayed here doesn't begin to describe the scope of what has his attention, and while you may or may not agree with his conclusions, the vivid model he lays out for how disparate aspects of the cohort can entirely miss one another (and what's lost when they do) is alone worth the ride.
I mentioned various threads from Shift being woven into Haggard's review.  One might be the sort of projection just mentioned, which several of us here have touched on — though it's only implicit in what Haggard has written.  In addition, besides Zygmunt's parallel offerings I was thinking of my own Autism and the Hacker Manifesto and ++ungood, but also and mostly of the way both Haggard's thoughts and Andrew Lehman's work are shot through with an emphasis on playfulness as a defining characteristic of the cohort.  Make no mistake, this is a definition of playfulness that encompasses what autistic culture thinks of as obsessions, one which has plenty of room for people who find a fierce joy in staying up all night troubleshooting – playing with – computer code.  As Haggard puts it, "It's no accident then that nerds love to both game and code."
And I'm sure there are other threads, from other contributors, that I'm missing here — it's that rich of a piece of writing.
Honestly, if you have the time and you also, you know, like to think, go read Haggard.  You'll find those threads yourself, if not from this site, then from your own life.  Here.
[image of Orwell's Winston Smith via Flickr/Creative Commons]
Mark Stairwalt on 03/11/11 in Art/Play/Myth, featured | 4 Comments | Read More