Extrovert Critic: "You'll Never Get Laid If You ____"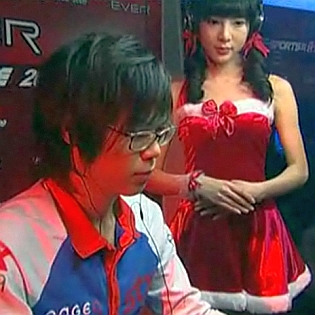 How many times has any male introvert nerd been told "If you like (DandD, klingons, magic cards, x…) you'll never get any girls"?
The aim of this criticism is to point out the superiority of the accepted orthodoxy over the divergent path.   The argument is that "You will not be rewarded with social approval for your actions, therefore you are foolish, wrong, and irrational."
After a lifetime of receiving such criticism and mockery, it becomes easy to start accepting such views as truth.  However, the way people and societies work is considerably more complex than extrovert critics care to realize:
Girls aren't usually interested in dungeons and dragons but neither do they tend to be terribly interested in the intricacies of professional sports, fighting wars, or entering blazing buildings.  A pro athlete, soldier, or firefighter tends to attract women not because women share their interests but because of their:
-high social status
-high level of congruency with the orthodoxy.
Many women in the West see sci fi/fantasy fandom as a negative trait because such interests are associated with low social standing and low levels of congruency with the larger society.   The general perception is that Nerddom is a zone for beta males who can't compete in the 'real' society.
Thus, if D and D repels the typical cheerleader or sorority girl, it is not because of any inherent property of the game itself.  It is about the social meaning attached to the game by any given society.  There is no inherent reason, as extrovert critics love to assert, that nerd games ought to be unappealing to women.
The extrovert critic represents the limited perspective of but one of the world's many societies:
South Korea is a country that treats real time strategy as a professional sport, the players enjoy a great deal of prestige and have no problems with opposite sex.   One top protoss player named Bisu is renowned for his good looks and has countless adoring female fans.  The players get supplied with pretty 'booth girls' who serve them drinks or take care of their needs during the course of a match.  The studio audiences at these starcraft matches are composed of people of all ages and contain a high percentage of women.
Thus, if Dungeons and Dragons were on national television and the football team was an underground movement of social outcasts, the roles would be effectively reversed.  It is simply a matter of social values.
Thus, if outcasts formed a cohesive new order with their own values installed as the orthodoxy, one need not worry about girls.  There would be plenty of prestige and social congruency attached to previously derided and undesirable activities.
Yet another aspect of absolution!
Zygmunt blogs at Kingdom of Introversion (and elsewhere).
Extrovert Critic: "You'll Never Get Laid If You ____" appears here by permission.
[image via Photobucket]
Zygmunt on 08/29/11 in featured, Society | 4 Comments | Read More