Identity Politics and Neurodiversity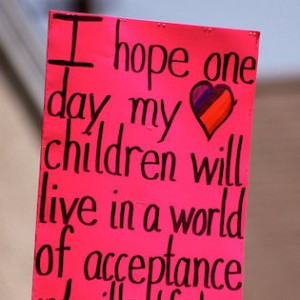 We've had some discussion here on Shift Journal recently about the extent to which characters and behaviors should be described as autistic.  Mark Stairwalt speculates that when people feel uncomfortable with "off-label" uses of the word, it's because their assumptions about the validity of diagnosis and the medical model have been subtly undermined.  I don't disagree with that observation; but I think it's likely that many people's discomfort runs even deeper, having as its source one of the central questions of the modern age: How should minority groups relate to the society around them?
When I read Ari Ne'eman's interview on Wired.com with Steve Silberman about neurodiversity and the autistic community (which was discussed last week here on Shift), I noted that the first comment came from a parent who made clear that she found the concept of autistic identity very disturbing.
"I take exception," she declared, to the "idea that my children's world should revolve around the fact that they are autistic.  They are many things and their autism is just one aspect of their personalities."
Upon first reading this comment, I thought (as did commenter # 2) that perhaps she had misunderstood something in the article.  After all, the goals of the neurodiversity movement, as clearly set forth in the interview, have to do with self-determination and acceptance of the legitimacy of neurological differences.  Taking that approach to its logical conclusion would result in less, rather than more, attention being paid to autism as it became accepted and routinely accommodated like other forms of diversity.
But then I realized she was objecting to the existence of the autistic community on the ground that it encourages people to identify as autistic more strongly than they might otherwise have done.  She wasn't suggesting that the neurodiversity movement had caused mainstream society to put too much emphasis on neurological differences; rather, she was bothered by the idea that her children might start wearing autistic pride T-shirts or taking part in autistic community events.
Of course, it's not just parents of kids on the spectrum who have such worries.  There are many parents who might, for instance, accept the fact that their son is gay—as long as the word is spoken only in hushed tones and behind closed doors—but who would be thoroughly scandalized if their son ever decided to march in a gay pride parade.
There's an inevitable tension between identity politics and the matter-of-fact acceptance of diversity that is its ultimate goal.  Identity politics encourages people to work together as a distinct group to improve the social status of the group; it requires them to put themselves forward in the political arena as a separate constituency focused on a particular agenda; and it promotes a strong sense of community by means of pride parades and other cultural events.  These methods have been shown to be very effective in getting the attention of politicians, journalists, and business leaders, putting pressure on them to make meaningful changes.  But by its very nature, identity politics also reinforces the social distinctions that it challenges.
Parents generally want kids to fit in and be accepted by their peers.  If there is something about our kids that sets them apart from others, we worry about what it might mean for their future.  Whether we're talking about autism, homosexuality, or anything else that might be seen as socially deviant, parents tend to get upset.  And when advocates tell young people to be proud of such differences, they often end up taking the brunt of the parents' emotional reactions.  It's a common dynamic that occurs in many contexts.  Although some parents will gladly march right next to their children in pride parades and wave banners calling for acceptance, others still have a lot of unresolved issues to work through.
As a minority group achieves social progress by way of identity politics, the center of the political discourse shifts toward acknowledging the legitimacy of its perspective (a process described in the article Autism's Overton Window by Mark Stairwalt), and its advocates then start to be perceived as mainstream civil rights organizations, rather than as scary troublemaking radicals.  But at the same time, the community's members become less passionate about identifying with the group because they no longer feel that this aspect of their identity is under attack.
To put it another way—we'll know that the neurodiversity movement has succeeded when our children don't see a need to wear autistic pride T-shirts because they've never been made to feel inferior in the first place.


related :  Autism as Adverb
related:  "Autism" the Word, as Glimpsed in the Wild
related:  Should We Label Characters?
Gwen McKay on 10/13/10 in featured, Politics | 10 Comments | Read More